Heikin Ashi Application is a tool which can be used in conjunction with other market indicators to confirm Forex momentum. It shows the relative strength and direction of Forex trends, as well as marks key points to enter and exit trades as prices. However, the Heikin Ashi calculates session activity in a way that "smoothes" out market noise, in order to give a better overall picture of Forex momentum spike and dip.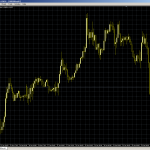 The Heikin Ashi is a type of candlestick chart. Unlike a standard candlestick chart which simply uses session highs and lows to represent each individual candlestick, the Heikin Ashi averages the prices per bar to create a chart that "smoothes" out the high volatility present in the Forex market.
Positive candles indicate a strong upward trend, one that is likely to continue. In these instances, traders may consider adding to their current position or simply maintain a hands-off approach until the momentum is likely to swing.
Small candles with long wicks are a signal that the momentum is about to reverse. However, investors should hold positions until the direction is confirmed.
Negative candles with wicks show that prices are trending lower and traders should consider exiting positions.
Negative candles with no wicks indicate a time to capitalize on short sales.
Forex momentum is strong when the candles have no wicks – whether positive or negative.
Without the market noise represented in the chart, it is easier for investors to identify overall upward and downward movements in price. The resulting chart, with the "smoothed" out candlesticks is not only more visually appealing, but it also gives investors a better picture of the overall session trends, and their relative strengths.
Using the Heikin Ashi application, investors can improve on opportunities by confirming the Forex momentum before making a trade. Seeing the market direction with this tool makes it easier to identify whether or not a position will likely be profitable.
Heikin Ashi charts offer a less complex picture of Forex momentum which is often easier to interpret. In conjunction with other market indicators, investors can more simply identify support and resistance, as well as opportune points to enter and exit positions.
Any number of technical indicators investors are familiar and comfortable with using can be utilized. Once a tool shows a possible favorable point of entry for a trade, the Heikin Ashi can be used to help confirm the overall price trend. With the addition of the Heikin Ashi application to confirm the forex momentum, a trader's confidence in a particular position increases.
Similar to the moving average, the Heikin Ashi is a useful tool to confirm Forex momentum. It eliminates market noise and volatility, and more clearly indicates overall market trends.